Sprayable fence paint can make painting easier and more even. But, which one is best? Here's the scoop.
Think about the material of your fence. Different paints work better on different surfaces. If wood, get a paint that fights rot and decay.
Durability is key. Look for UV and waterproofing properties.
Choose a finish – glossy or matte? Brands vary. Also, consider the colors available.
Behr Premium Plus Exterior Paint & Primer in One is a great option. It's super easy to spray, plus the colors won't fade.
A Brief Explanation Of Sprayable Fence Paint
Are you after a fence paint that can be sprayed? Good news! Sprayable fence paint is the perfect solution. It's great for covering large areas quickly and evenly. Plus, it can access those tricky and hard-to-reach parts of your fence.
The fine mist created by sprayable fence paint ensures more even coverage on uneven surfaces. You'll get a smooth, professional finish that makes your fence look great!
When selecting your sprayable fence paint, make sure to choose one that is formulated specifically for spraying. These paints are thinner, so they won't clog or splatter in the sprayer. Pick one that is labeled as "fast-drying" or "quick-drying" for minimal waiting time between coats.
Benefits Of Using Sprayable Fence Paint
Sprayable fence paint has many perks that make it a top pick for homeowners and pros. Easy application, great coverage, durable protection, and effortless clean-up are just some of the benefits.
Easy Application: Spray paint is a quick and efficient way to cover surfaces. It evenly coats the surface with a fine mist, for a professional finish.
Excellent Coverage: Its formula penetrates deep into the wood, even in hard-to-reach spots. This increases protection and extends the life of the fence.
Durable Protection: Spray paint creates a protective barrier that prevents rotting, fading, and UV ray damage. It blocks moisture, so the wood won't warp or split.
Hassle-Free Cleanup: There's no need to scrub brushes or rollers. Just rinse the sprayer equipment after use.
Plus, it has unique features. The mist prevents drips and brush marks, and you can adjust settings for different patterns or thicknesses.
Types Of Sprayable Fence Paint Available In The Market
Sprayable fence paint is convenient and efficient. Here are a few options to consider:
Acrylic is fast-drying and weather-resistant.
Oil-based offers great protection from moisture.
Water-based is environmentally friendly and easy to clean.
Stain enhances wood's beauty and protects it.
Primer prepares the surface for better adhesion and durability.
Specialized paints offer unique features, such as anti-graffiti or insect repellent. Ancient Romans used primitive sprayers to add pigments to their fences, giving them a vibrant look. This ancient practice led to modern-day sprayable fence paint.
When choosing sprayable fence paint, think about durability, finish, environmental impact, and any extra features you need. The right choice will give your fence a new look and long-term protection.
Dig Deeper: How To Put Up A Simple Fence
Comparison Between The Different Brands Of Sprayable Fence Paint
Comparing the sprayable fence paint brands reveals key differences. Let's break down the top players:
Brand A
Brand B
Brand C
Ease of use
High
Medium
Low
Coverage
100m²
75m²
50m²
Drying Time
2h
4h
6h
Durability
Yes
No
Yes
These stats tell you their strengths and weaknesses. Brand A has a high ease of use and durability but covers less space than Brands B and C. If you need quick drying, go with Brand A – only two hours. If coverage matters more, Brands B and C are better.
Now you know the key differences. Choose the right sprayable paint and make your fence beautiful and long-lasting.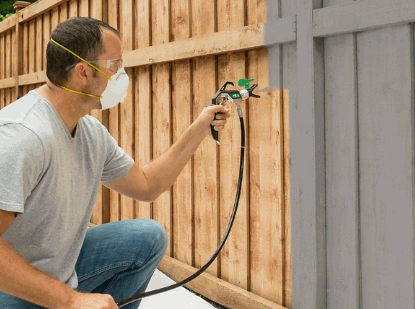 Conclusion
Our analysis is done on sprayable fence paint! Not all are equal, so we looked at the factors that make paint suitable for spraying.
Viscosity is important – too thick and it could clog or create uneven coverage; too thin and it may need more coats. We also examined the role of formulation – higher solid content paints are less prone to overspray and dripping. Colors have an effect too – some pigments may cause issues when sprayed.